How we work
Turning clay into tile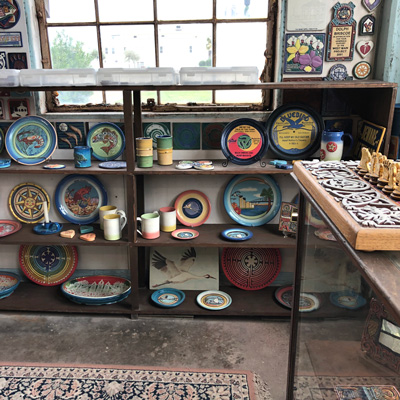 I love all this Aloe Tile! 
Thank you!
All our work is unique or specialty ordered in-person at our studio. We do not sell any finished work online. That includes all work you see on this site or on social media.
A selection of our work is available for sale at our studio in Corpus Christi, Texas as well as next door at the Wilhelmi/Holland Gallery. These are all one-of-a-kind items and dependent on what is in the showroom.
Custom orders take anywhere from six weeks to several months, depending on the complexity of the project and time of year.
Tile takes time — because people make these tiles! We look forward to talking with you about our work and what we do.
How do people make these tiles?
We use a red clay, inspired by the strong colors you see at the Four Corners in the American Southwest. Our clay is a customized mix of red clay from the Ohio River Valley, Georgia brick clay and Florida kaolin china clay. We work with a palette developed over several years of study, primarily inspired by the brilliant Texas ceramicist Harding Black. Everything we do is done by hand in our studio, from mixing the clay to boxing it up for transport. We continually update our colors and wake up every day ready to make a better tile.
We work in relief tile and painted tile. Our relief tile is hand-carved, then we hand-paint the design with customized colored clay. Our painted tile is formed and then hand-painted with colored clay. It is then fired once in a bisque firing. Then we use a custom-blended clear glaze and fire it again at high heat.
Here's a few images of our process on various projects over the years. We hope you enjoy our finished tile as much as we did making it.